Test of the The U of R Missile Defense System
April 21, 1999

Developed by your Physics 105 Students
---
As part of our study of conservation of linear momentum all Physics 105 students have constructed 2 rockets. Each rocket was constructed from plastic soda bottles, and water and air were used as fuel. The goal of this project was to study which design characteristics improve the flying capabilities of the rocket. Each rocket was launched with 500 ml of water as fuel, and air with a pressure of 80 psi. The rockets were launched on April 21, 1999, and unfortunately, most rockets were destroyed after their maiden voyage. The launches were video-taped for off-line analysis.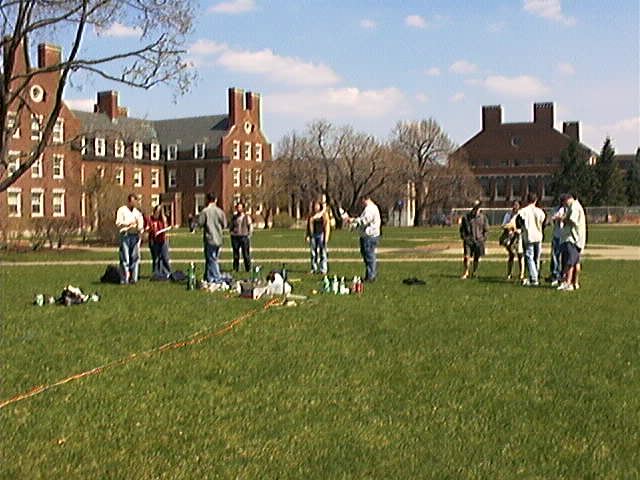 The launch team prepares for the first launch. It was not clear why they choose to stand at the landing site of most rockets. We will never know.
The first launch of a Physics 105 rocket, and unfortunately also the first destruction of a Physics 105 rocket.
The Physics 105 launch team gets ready for another launch.
The shark on the left appeared to be the most successful rocket and survived two launches before being destroyed on impact after the third launch. The rocket on the right never made it of the launch pad due to a fuel leak in the main engine.
Sad students with the wreckage of their rockets.
Some final views of a successful launch day.
And who said that Physics was boring?
---
© Frank L. H. Wolfs, University of Rochester, Rochester, NY 14627, USA
Last updated on Wednesday, January 17, 2001 6:59